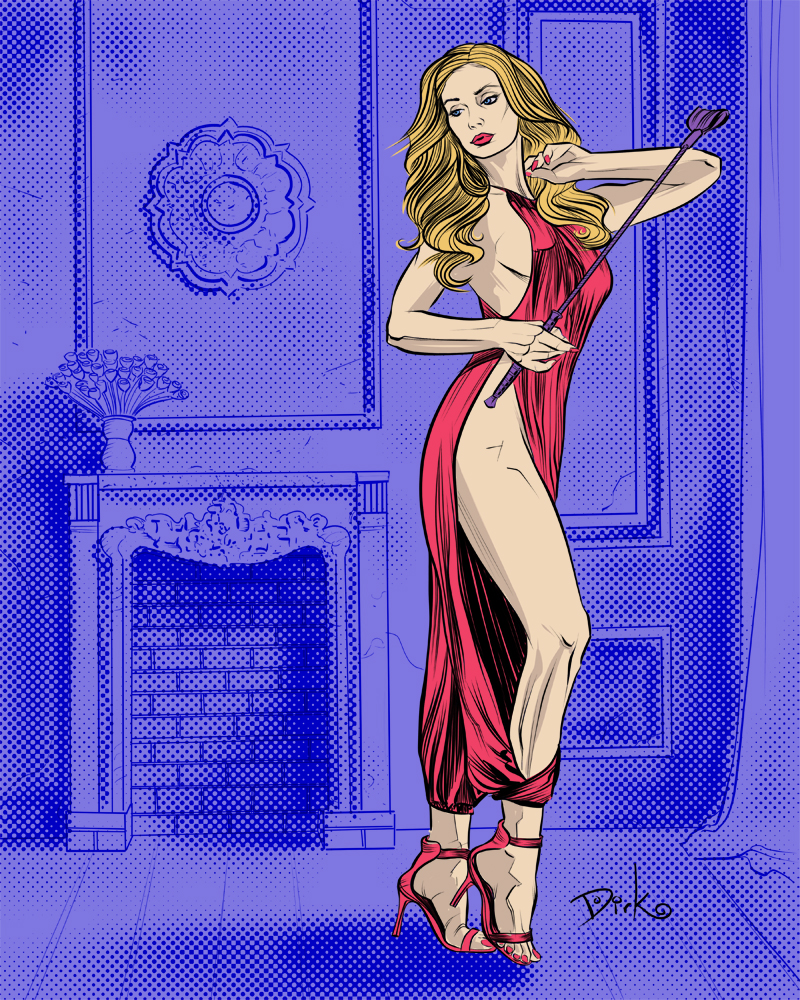 FemDom Illustration of Goddess Ava by Dirk Hooper – www.DirkHooper.com
It's my most sincere desire that Dominatrix Boss makes you want to know more about female domination.
While Dominatrix Boss is not based on real events or real people, it IS based on real female domination, actual experiences, and real feelings.
FemDom is something that is largely unknown, or even worse, greatly misrepresented in mainstream media. Most of what you'll see are one-dimensional characters and scenarios that are dangerous or just stupid, written by people who have no idea what they're talking about. There are some notable exceptions, but I'm talking about the majority of stuff out there.
Also, female domination, while growing, is still something that is practiced by very few people, and even less by people in a lifestyle relationship. I'd love to see that change. There are TONS of submissive men out there who will go their entire lives without finding a dominant woman. The numbers of dominant women to submissive men are so disparate that it's almost comical… not to the men who would be interested in serving a dominant woman, but comical nonetheless.
I'm hoping that people read Dominatrix Boss, or my other stories, and start wondering what it would be like to experiment with FemDom. It would be my greatest desire to see just one new woman pick up a whip and go on that journey, or one submissive man to find answers and support, because they were inspired by my writing.
But where do you start?
That's why I've created this FemDom Resource List. I want to give people who are interested in all aspects of FemDom (or BDSM in general) a place to begin to get some answers and fire up their imagination. This list is definitely not exhaustive, and it's not set in stone. If you have some non-fiction FemDom books, websites, groups, apps, or courses, and you want me to include them here (or in the back of my books) then get in touch with me at asher@asherlake.com and I'll be glad to add them.
Note: This is not necessarily an endorsement of all of these resources, just a suggestion on where to start getting information. There are a lot of different opinions listed below, and some of them are contradictory. Learn all you can and use what works for you!
Books
FemDom Non-Fiction Books
"Enough to Make You Blush: Exploring Erotic Humiliation" by Princess Kali
"Female Domination" by Elise Sutton
"How To Set Up An FLR: A Couple's Guide to Female Led Relationships" by Georgia Ivey Green
"Surrender, Submit, Serve Her.: The definitive guide to enacting Female Leadership and embracing the Female Dominated Household" by Key Barrett
"The Hesitant Mistress: A Guide to Claiming Your Feminine Power" by Dvanna Hightower
"The Mistress Manual" by Mistress Lorelei
"The Sexually Dominant Woman" by Lady Green
BDSM Non-Fiction Books
"How to Be Kinkier: More Adventures in Adult Playtime" by Morpheous
"SM 101: A Realistic Introduction" by Jay Wiseman
"The Ultimate Guide to Kink: BDSM, Role Play and the Erotic Edge" by Tristan Taormino 
Sex, History, and More Books
"Sexy Prostate: Male G-Spot Massage for Pleasure and Health" by Erika Thost
"The History & Arts of the Dominatrix" by Anne O Nomis
Websites
Female Led Relationships and Male Permanent Chastity – https://femdom.substack.com/
Femdom Relationships – https://femdomrelationships.org/
Goddess Natasha – https://www.worshipnatasha.com/
Kink Weekly – http://www.kinkweekly.com/
Kink~e Magazine – https://www.kinkemag.com/
Kinkly – https://www.kinkly.com/
Love and Obey: Female Led Relationships – www.loveandobey.com
Mistress Kye – https://mistresskye.com/
Podopheleus (resource for submissive men) – https://www.podopheleus.com/
Submissive Guide – https://submissiveguide.com/
Video
The Commandant – https://www.youtube.com/@thecommandant
Podcasts